Cal-Driver-Ed.Com

California's Home Study Driver Education Class
We offer online driver education and home study driver ed courses that satisfy the California Vehicle Code driver education requirements for students to obtain a DMV learners permit and drivers license. Our driver education classes are accepted by the California DMV. Designed for all California high school students in Sacramento, San Jose, Los Angeles, Long Beach, Oakland, Orange, San Diego, Riverside and all other areas of California. A service of Pacific High School.

To easily find this site again, hit Ctrl+D, or drag this link: Cal-Driver-Ed to your Favorites.


The California DMV Driver Handbook
If you see vehicle warning hazard lights ahead, slow down. There may be an accident or other road emergency ahead. Stop and give assistance, or pass very carefully.
Radio or news reports of accidents or roadwork often refer to numbered traffic lanes. The left or "fast" lane is called the "Number 1 Lane." The lanes to the right of the #1 lane are called the #2 lane, then the #3 lane, etc.
Avoid driving near accidents. Take another road, if you can. Those injured will be helped faster if other vehicles aren't blocking the road. If you must drive near an accident, don't slow down or stop just to look. You may cause another crash. Drive by carefully, watching for people in the road.
Never drive to the scene of an accident, fire, or other disaster to look. You may block the way for police, fire fighters, and ambulances, and you may be arrested for doing this.
It is against the law to follow closely behind any fire engine, police car, ambulance, or other emergency vehicle with a siren or flashing lights.
Obey any order from a police officer or fire fighter. Their orders should be obeyed even if you must ignore normal traffic laws or signs.
If You Are Involved In An Accident
You must stop if you are involved in an accident. Someone could be injured and need your help. If you don't stop, you may be convicted of "hit and run" and could be severely punished.
If anyone is hurt, call the police or CHP. Dial 9-1-1. In cities or towns, report to the local police or dial 9-1-1.
If you are involved in a minor traffic collision (no one is injured or killed), move your vehicle out of the traffic lane.
Show your driver license, registration card, evidence of financial responsibility, and current address to the other driver or persons involved, or to any peace officer.
The driver or his or her insurance agent, broker, or legal representative must make a written accident report to:

- The police or CHP within 24 hours of the accident if someone is killed or injured.
- DMV, if necessary..

If you hit a parked vehicle or other property, leave a note with your name and address in the car or securely attached to it. Report the accident to the city police or, in unincorporated areas, to the CHP.
If you have parked a vehicle and it rolls away, hitting another vehicle, find the owner and report to authorities as mentioned above.
If you kill or injure an animal, call the nearest humane society or call the police or CHP. Do not try to move an injured animal. Never leave an injured animal to die.

Already Have Your License?
Looking for a Traffic School?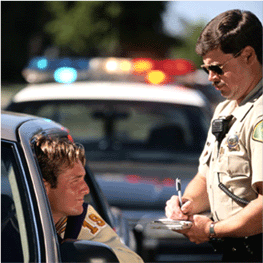 Traffic school will help keep your auto insurance costs lower if you receive a traffic ticket.
Every licensed California Driver must have auto insurance to drive a vehicle in California. Proof of insurance must be provided to the California DMV when you obtain your drivers license (not your learners permit).
Proof of auto insurance must also be provided to DMV when you register or renew the license on a vehicle you own.