You may come upon a school bus which is stopped and flashing yellow lights. This is a warning for you to prepare to stop because the children are preparing to leave the bus.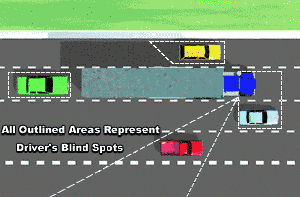 When you come upon a school bus stopped on either side of the road with flashing red lights, you must stop. The flashing red lights are located at the top front and top back of the bus. Schoolchildren will be crossing the road to or from the school bus. Remain stopped as long as the red lights are flashing. Failure to do so is a violation of VC §22454. You may be fined up to $1000 and your driving privilege could be suspended for a period of one year.
You need not stop if the bus is on the other side of a divided or a multilane (two or more traffic lanes in each direction) highway.
Do not drive through a safety zone, which is a space set aside for pedestrians and marked by raised buttons or markers on a roadway.
When people are boarding or leaving a streetcar where there is no safety zone, stop behind the nearest door or vehicle platform and wait until the people have reached a safe place.
When a bus or streetcar is stopped at a safety zone or at an intersection where traffic is controlled by a police officer or traffic signal, you may pass, as long as it is safe to do so, and at no more than 10 mph.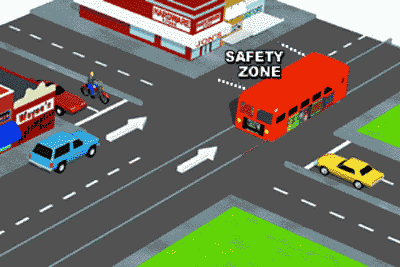 Do not overtake and pass any interurban train or streetcar on the left side, whether it is moving or standing. Exceptions: when you are on a one-way street; when the tracks are so close to the right side that you cannot pass on the right; or when a traffic officer directs you to pass on the left.
LIGHT RAIL VEHICLES (TROLLEYS)
Light rail vehicles, or trolleys, have the same rights and responsibilities on public roadways as other vehicles. Although everyone must follow the same traffic laws, trolleys, because of their size, require exceptional handling ability.
Here are some specific steps you can take to safely share the road with trolleys:
Be aware of where trolleys operate.
Never turn in front of an approaching trolley.
Be aware that buildings, trees, etc., cause blind spots for the trolley operator.
Maintain a safe distance from the trolley if it shares a street with vehicular traffic.
Look for approaching trolleys before you turn across the tracks. Complete your turn only if a signal (if installed) indicates you may proceed.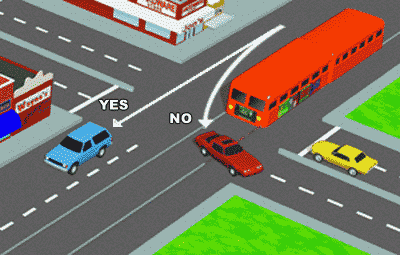 NOTE: Trolleys can interrupt traffic signals, so do not proceed until the signal light indicates you may.
You must yield the right-of-way to a police car, fire engine, ambulance, or other emergency vehicle using a siren and red light. Drive as close to the right edge of the road as possible and stop until the emergency vehicle(s) has passed. However, don't stop in an intersection. If you are in an intersection when you see an emergency vehicle, continue through the intersection and then drive to the right as soon as you can and stop. Emergency vehicles often use the wrong side of the street to continue on their way. They sometimes use a loud speaker to talk to drivers blocking their path.
Yield to Emergency Vehicles
Pull to the Right Edge of the Road and Stop.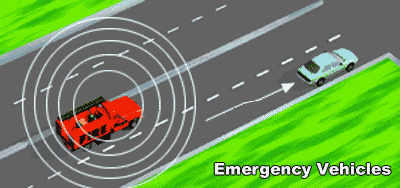 It is against the law to follow within 300 feet of any emergency vehicle which is answering an emergency call.
If you drive for sight-seeing purposes to the scene of a fire, accident, or other disaster you may be arrested. Casual observers interfere with the essential services of police, fire fighter, ambulance crews, or other rescue or emergency personnel.
You must obey any traffic direction, order, or signal by a traffic or police officer or a fire fighter. Obey any order in emergency or special situations, even if it conflicts with existing signs, signals, or laws.