Cal-Driver-Ed.Com

California's Home Study Driver Education Class
We offer online driver education and home study driver ed courses that satisfy the California Vehicle Code driver education requirements for students to obtain a DMV learners permit and drivers license. Our driver education classes are accepted by the California DMV. Designed for all California high school students in Sacramento, San Jose, Los Angeles, Long Beach, Oakland, Orange, San Diego, Riverside and all other areas of California. A service of Pacific High School.

To easily find this site again, hit Ctrl+D, or drag this link: Cal-Driver-Ed to your Favorites.


The California DMV Driver Handbook
Some vehicles are not designed to keep up with the speed of traffic. Look for these vehicles and adjust your speed before you reach them.
Farm tractors, animal-drawn carts, and road maintenance vehicles usually travel 25 mph or less. Slow moving vehicles have an orange triangle on the back. It looks like this sign.

Also, be aware that large trucks and small, underpowered cars lose speed on long or steep hills and they take longer to get up to speed when entering traffic.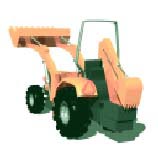 Certain other types of slow moving motorized vehicles (such as wheelchairs, scooters and golf carts) may legally operate on public roads. Adjust your speed accordingly.
Horse-drawn vehicles and riders of horses or other animals are entitled to share the road with you. It is a traffic offense to scare horses or stampede livestock. Slow down or stop, if necessary, and when requested to do so by the riders or herders.
Motorcyclists have the same rights and responsibilities as automobile drivers. While everyone must follow the same traffic laws, motorcyclists face unusual dangers because motorcycles are hard to see and require exceptional handling ability. Because they are hard to see, many motorcycles keep their headlight on, even during daylight hours.
Here is what you can do to share the road safely with motorcyclists:
When you change lanes or enter a major thoroughfare, make a visual check for motorcycles. Also use your mirrors. Motorcycles are small and they can tuck easily into a vehicle's blind spot.
Allow a four-second following distance to allow you time to avoid hitting the motorcyclist if he or she falls.
Allow the motorcycle a full lane width. Although it is not illegal to share lanes with motorcycles, it is unsafe.
When you make a turn, check for motorcyclists and know their speed before turning.
Remember that road conditions which are minor annoyances to you pose major hazards to motorcyclists. Potholes, gravel, wet or slippery surfaces, pavement seams, railroad crossings, and grooved pavement can cause motorcyclists to change speed or direction suddenly. If you are aware of the effect of these conditions and drive with care and attention, you can help reduce motorcycle accidents, injuries, and fatalities.
Bicycle riders (cyclists) on public streets have the same rights and responsibilities as automobile drivers. Cyclists are part of the normal traffic flow and are entitled to share the road with other drivers. Here are some critical points for drivers and cyclists to remember:
Cyclists must ride in the same direction as other traffic, not against it. They should normally ride in a straight line as near to the right curb or edge of the roadway as practical. Not on the sidewalk. Cyclists can legally move left to turn left, to pass a parked or moving vehicle, another bicycle, an animal, or to make a turn, avoid debris, or other hazards. They may also choose to ride near the left curb or edge of a one-way street.

| | |
| --- | --- |
| RIGHT | WRONG |
| | |
Cyclists make left and right turns in the same way that drivers do, using the same turn lanes. Cyclists can use a left turn lane. If the cyclist is traveling straight ahead, he or she should use a through traffic lane rather than ride next to the curb and block traffic making right turns.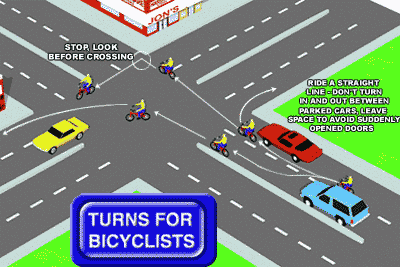 Drivers should look carefully for cyclists before opening doors next to moving traffic or before turning right. Merge safely toward the curb or into the bike lane. Do not overtake a cyclist just before making a right turn. Merge first, then turn.
In some cases, cyclists are lawfully permitted to ride on certain sections of freeways. Be careful when approaching or passing a cyclist on a freeway.
Drivers must be careful when driving close to cyclists. Drivers should allow a minimum of three feet of space between the vehicle and bicycle when passing.
Before passing a cyclist in a narrow traffic lane, wait until the traffic is clear in the opposite lane and then change lanes to pass the cyclist. Do not attempt to squeeze past the cyclist. (See pictures)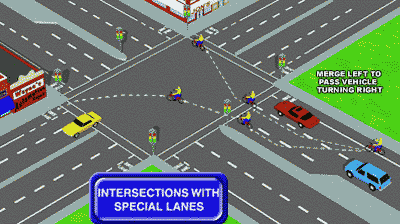 Already Have Your License?
Looking for a Traffic School?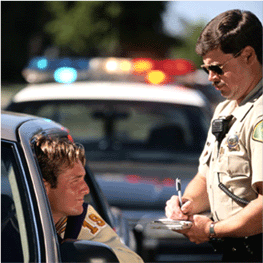 Traffic school will help keep your auto insurance costs lower if you receive a traffic ticket.
Every licensed California Driver must have auto insurance to drive a vehicle in California. Proof of insurance must be provided to the California DMV when you obtain your drivers license (not your learners permit).
Proof of auto insurance must also be provided to DMV when you register or renew the license on a vehicle you own.