Cal-Driver-Ed.Com

California's Home Study Driver Education Class
We offer online driver education and home study driver ed courses that satisfy the California Vehicle Code driver education requirements for students to obtain a DMV learners permit and drivers license. Our driver education classes are accepted by the California DMV. Designed for all California high school students in Sacramento, San Jose, Los Angeles, Long Beach, Oakland, Orange, San Diego, Riverside and all other areas of California. A service of Pacific High School.

To easily find this site again, hit Ctrl+D, or drag this link: Cal-Driver-Ed to your Favorites.


The California DMV Driver Handbook
DEALING WITH TRAFFIC CONGESTION
Chronic traffic congestion is the California commuter's biggest headache, but even small changes in driving habits could provide fast relief, according to the California Office of Traffic Safety (OTS).
Several driving behaviors which contribute to congestion include:
Rubbernecking—perhaps the most frustrating of behaviors. Slowing down to look at accidents or virtually anything else out of the ordinary, is one of the worst congestion offenders.
Tailgating—following too closely is common on California freeways, accounting for innumerable accidents which in turn clog major freeways, often for hours.
Unnecessary lane changes—although it produces virtually no improvement in arrival times, many motorists insist on weaving in and out of freeway lanes, which slows down all traffic.
Inattention—commuters can commonly be seen eating, grooming in the rearview mirror, talking on a cellular telephone, and even reading the newspaper as they drive to work.
Traffic congestion can also be caused by drivers who do not watch the fuel gauge or maintain their vehicles properly. These vehicles can malfunction or stall on freeways or surface streets and cause bottlenecks and major slow downs in traffic flow.
Road rage happens when one driver reacts angrily to another driver. Angry drivers may lash out by deliberately braking suddenly, pulling close to another car, or taking more violent steps such as coercing a driver to pull over to "settle" the dispute.
Here are suggestions to avoid provoking other drivers:
Don't cut off other drivers. When you merge, make sure you have enough room and always signal before you merge.
Don't drive slowly in the left (fast) lane. Avoid using the fast lane except for the brief time it takes to pass another driver. Driving slowly in the fast lane frustrates other drivers.
Don't tailgate. Many drivers get angry when they are followed too closely. Remember to keep the appropriate following distance between you and the car ahead of you.
Don't signal gestures to other drivers. Keep your hands on the steering wheel. Making obscene gestures to other drivers may provoke him or her.
Use your horn for emergencies only. Even a polite tap of your horn may be enough to provoke another driver.
You can protect yourself from becominginvolved in a potentially violent incident by following some basic tips:
Avoid eye contact with an angry driver. To some people, eye contact is the same as a challenge. If someone is determined to act out his or her frustrations, even a friendly smile can be misinterpreted.
Give an angry driver plenty of space. If you make a driving error (even accidentally), it is possible the other driver may try and pick a fight with you. Put as much distance between your vehicle and the other car as you can.
Cellular telephones are everywhere. In an emergency, they can be a lifesaver. In non-emergency situations, they can be a great tool if you use the cellular telephone in a safe and responsible manner. Here are some tips:
Pull over to the side of the road to use your cellular telephone. This is the safest precaution you can take.
Know your cellular telephone. Get to know your phone and its many features such as speed dial and redial. Take advantage of these features so you won't take your attention off the road.
Use hands free devices. If available, use a hands free device. Two hands on the steering wheel is always safer than one.
Your phone should be within easy reach. If your phone is within reach you can grab it without taking your eyes off the road.
Don't use the telephone during hazardous conditions. If your driving conditions are hazardous (heavy traffic, construction zones, hazardous weather conditions, etc.), tell your caller that you are driving and will call back. Remember, your first responsibility is to pay attention to the road.
Pay attention to the road. While you are driving, don't take notes or look up phone numbers. If you are busy doing other things, you are not paying attention to your driving.
Be sensible about dialing. If possible, place your calls when you are not moving or before pulling into traffic.
Don't engage in distracting conversations. Stressful or emotional conversations don't mix with safe driving. This combination can be dangerous because you are not paying attention to your driving. Tell your caller that you are driving and will call back. Be safe!
Use your phone to call for help. Dial 9-1-1 for emergency help. This is a free call on your cellular phone. For other non-emergency situations (broken-down vehicle, broken traffic signal, etc.), call roadside assistance or other special non-emergency wireless number.

Already Have Your License?
Looking for a Traffic School?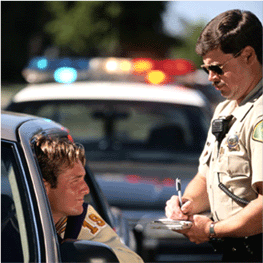 Traffic school will help keep your auto insurance costs lower if you receive a traffic ticket.
Every licensed California Driver must have auto insurance to drive a vehicle in California. Proof of insurance must be provided to the California DMV when you obtain your drivers license (not your learners permit).
Proof of auto insurance must also be provided to DMV when you register or renew the license on a vehicle you own.