Signs along the road and/or painted on the pavement tell you a railroad crossing is ahead. Look in both directions and listen for trains. Many crossings have multiple tracks so be ready and able to stop before crossing, if necessary.
You should expect a train on any track, at any time, traveling in either direction. If you need to stop after crossing the tracks, make sure your vehicle clears the crossing before you stop.
A train cannot stop quickly or swerve out of the way. If you are on the tracks, you risk injury or death. Never stop on the railroad tracks.
Watch for vehicles that must stop before crossing the tracks such as buses, school buses, and trucks transporting hazardous loads.
Flashing red lights mean STOP! Stop at least 15 feet from the nearest track when:
The crossing devices are active.
A person warns you a train is coming.
You see a train coming.
You hear the whistle, horn, or bell of an approaching train.
Do not go around or under lowered railroad crossing gates, even if you do not see a train.
Wait for the gates to rise. If you think the gates are not working correctly, call the railroad emergency number posted near the crossing or notify the local police or California Highway Patrol.
Cross railroad tracks only at designated crossings and only when safe to do so.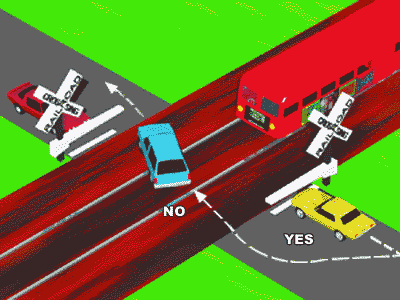 The same rules apply to trolley crossings as to train crossings. Do not proceed across the tracks until you can see clearly in both directions and are sure that no other trolley or train is coming.
Do not go around or under any closed gate.
NOTE: Trolleys are very quiet and move more quickly than freight trains.
Diamond shaped signs like those shown below mean that the load on the truck is dangerous. CHP or fire department officers know what to do if the load is accidentally spilled. Vehicles which display these signs, must stop before crossing railroad tracks.