Cal-Driver-Ed.Com

California's Home Study Driver Education Class
We offer online driver education and home study driver ed courses that satisfy the California Vehicle Code driver education requirements for students to obtain a DMV learners permit and drivers license. Our driver education classes are accepted by the California DMV. Designed for all California high school students in Sacramento, San Jose, Los Angeles, Long Beach, Oakland, Orange, San Diego, Riverside and all other areas of California. A service of Pacific High School.

To easily find this site again, hit Ctrl+D, or drag this link: Cal-Driver-Ed to your Favorites.


The California DMV Driver Handbook
PEDESTRIANS WHO ARE BLIND
| | |
| --- | --- |
| Pedestrians using guide dogs or white canes with or without a red tip must be given the right-of-way at all times. These pedestrians are partially or totally blind so be especially careful when turning corners or backing up. | |
Here are some suggestion for helping pedestrians who are blind:
Don't stop your car more than five feet from the crosswalk. The blind pedestrian uses the sound of your engine as a guide, so pull right up to the crosswalk to allow the person to hear you.
Don't give the blind pedestrian verbal directions. The blind pedestrian listens to all traffic sounds before deciding to cross the street.
Don't wait too long for the blind pedestrian to cross the street. If the person takes a step back and pulls in his or her cane, that's a definite sign the driver should go.
Don't turn right on red without looking first. Look for any pedestrian or other traffic first before starting your turn.
Stop at all crosswalks where pedestrians are waiting.
Don't stop in the middle of a crosswalk. This forces the blind pedestrian to go around your car and into traffic outside of the crosswalk.
Don't block any sidewalk.
Don't honk at a blind person. The blind person has no idea who you are honking at and may be scared by the noise.
| | |
| --- | --- |
| Highway workers warn you of their presence by using orange signs, equipment, flags, and reflective vests. It's up to you to ensure both your own and the workers' safety by driving slowly through construction zones. THE HIGHWAY WORKER'S LIFE IS IN YOUR HANDS. | |
Vehicles used to maintain the highways are painted orange. Be prepared to slow down or stop for them. When you see orange equipment on the road, workers will be nearby.
One or more lanes may be closed when road work is going on. Orange signs and changeable message boards warn you that people and slow moving equipment are ahead. Signs will tell you which lanes are closed and a line of orange cones will direct you to the open lanes. Do not cross the line of cones.
Don't stop or slow down to watch road work. Keep going at the posted speed limit for the construction zone. Obey any special signs or instructions from signal persons at road construction sites.
NOTE: Fines are doubled in highway construction or main-tenance zones when workers are present. (VC §42010)

Already Have Your License?
Looking for a Traffic School?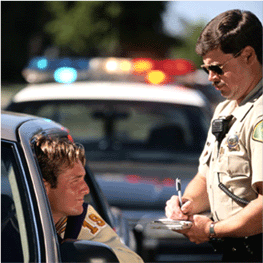 Traffic school will help keep your auto insurance costs lower if you receive a traffic ticket.
Every licensed California Driver must have auto insurance to drive a vehicle in California. Proof of insurance must be provided to the California DMV when you obtain your drivers license (not your learners permit).
Proof of auto insurance must also be provided to DMV when you register or renew the license on a vehicle you own.