Cal-Driver-Ed.Com

California's Home Study Driver Education Class
We offer online driver education and home study driver ed courses that satisfy the California Vehicle Code driver education requirements for students to obtain a DMV learners permit and drivers license. Our driver education classes are accepted by the California DMV. Designed for all California high school students in Sacramento, San Jose, Los Angeles, Long Beach, Oakland, Orange, San Diego, Riverside and all other areas of California. A service of Pacific High School.

To easily find this site again, hit Ctrl+D, or drag this link: Cal-Driver-Ed to your Favorites.


The California DMV Driver Handbook
You may take the written, vision, and driving tests at any DMV office which provides driver license services. Written and vision tests are required when you apply for an original, renewal, or upgrade to a different class of license. Driving tests are usually waived for the class of license you currently have. Appointments are available for all DMV services. An appointment is usually required to take any driving test.
DMV wants you to pass your test. There are exams in many different languages. However, you must have the ability to read traffic signs in English. If the exam is not available in the language you speak, you may take the exam with the help of an interpreter. The exams are also available in video, audio, and large print formats. If you have difficulty with an exam, tell the DMV employee. You can be more successful by following these suggestions:
Read this handbook. Take a few days to review the information.
Ask a family member or a friend to test your knowledge.
Read the test questions carefully. Don't read anything extra into the question. There is only one correct answer.
All test questions are based on this handbook. If you miss a question, the DMV employee can tell you where to find the correct answer.
Review the sample test questions on page 86. Sample questions are also available online. DMV's website: www.dmv.ca.gov.
What Will The Examination Include?
Your examination for a driver license includes the following:
A vision test. If you need glasses or corrective contact lenses to pass this test, you must wear them. Your license will show that you must wear "corrective lenses" while driving. If you do not pass the vision test, you will be referred to your vision specialist. A driving test may be required.
You will not get a license if your corrected vision is 20/200 or worse in the better eye. You may not use a bioptic telescopic or similar lens to meet this standard.
A test of traffic laws, road signs, and driving safety rules (written or audio) to find out if you know how to legally drive your vehicle.
A driving test, if required. This test is usually given by appointment only. For the driving test, bring with you:
- your old license or instruction permit, if you have one.
- a licensed driver.
- a car that is safe to drive, currently and properly registered, and displays a front and rear license plate. Make sure your vehicle's brake lights, horn, parking brake, and electric signals are working properly and the vehicle does not have bald tires. The driver's side window must roll down. The windshield must allow a full unobstructed field of vision and there must be two rear view mirrors (one must be on the left outside of the vehicle).
- you will be asked to locate the switches for the vehicle's headlights, windshield wipers, defroster, and emergency flashers. You must demon-strate how to use the parking brake. You will be asked to show that your car is properly insured. If you use a rental car for the driving test, the driver's name must show on the contract as the insured. You must also wear your seat belt.
The driving test will be postponed if the vehicle does not meet the above require-ments or if you refuse to use your seat belt during the driving test.
The driving test is to show that you can drive safely. Only you and the examiner (or other DMV personnel) can be in the vehicle. No animal may be in the vehicle. The examiner will give you directions and will not trick you or ask you to do anything illegal. The driving test will only be given after all the requirements have been met.
DRIVING IS A PRIVILEGE
NOT A RIGHT
You will be asked to show the arm signals. However, during the test, you must use the vehicle's turn signal lights.
During the driving test, the examiner will note:
How you start your vehicle. When leaving the curb, do you use your mirrors and turn your head and look back for passing cars? Do you signal, and wait until it is safe before entering traffic?
How you control your vehicle. Do you use the gas pedal, brake, steering wheel (two hands on opposite sides), and other controls correctly?
How you drive in traffic. Do you use the proper lane? Do you signal, turn your head and look back before pulling away from the curb or when you change lanes? Do you signal the proper distance before turning? Do you follow other vehicles at a safe distance?
How you obey the traffic signals and posted signs (such as speed limit signs).
How you drive through blind or crowded intersections. Do you scan carefully for signs, signals, pedestrians, and other vehicles? Do you yield and take the right-of-way correctly?
How you steer your vehicle. Do you turn from the proper lane into the proper lane. Is your turn too wide or too sharp?
How you stop. Do you stop smoothly and at the right spot? Can you stop quickly and safely in an emergency? In a vehicle with a manual transmission, do you keep the vehicle in gear or push the clutch in and coast to a stop?
How you back up. Do you look over your right shoulder while backing? Can you back in a straight line? Do you have complete control of the vehicle?
How you change your speed to suit the number and speed of nearby traffic, the people crossing the street, road conditions, weather, the amount of light, and the distance you can see ahead.
How you judge distance. Do you stay a safe distance away from other vehicles when following or passing? Do you stay a safe distance away from people walking or bicyclists riding on the road?
How you respect the rights of others. Are you courteous to other drivers and pedestrians?
Whether you pay full attention to the job of driving.
At the end of the test, you will get your score sheet and the examiner will discuss the results with you. If you pass the driving test, you will be issued an interim license valid for 60 days.

Already Have Your License?
Looking for a Traffic School?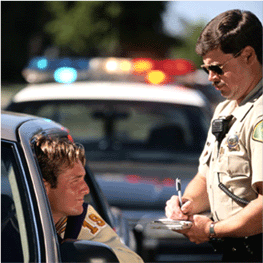 Traffic school will help keep your auto insurance costs lower if you receive a traffic ticket.
Every licensed California Driver must have auto insurance to drive a vehicle in California. Proof of insurance must be provided to the California DMV when you obtain your drivers license (not your learners permit).
Proof of auto insurance must also be provided to DMV when you register or renew the license on a vehicle you own.