Cal-Driver-Ed.Com

California's Home Study Driver Education Class
We offer online driver education and home study driver ed courses that satisfy the California Vehicle Code driver education requirements for students to obtain a DMV learners permit and drivers license. Our driver education classes are accepted by the California DMV. Designed for all California high school students in Sacramento, San Jose, Los Angeles, Long Beach, Oakland, Orange, San Diego, Riverside and all other areas of California. A service of Pacific High School.

To easily find this site again, hit Ctrl+D, or drag this link: Cal-Driver-Ed to your Favorites.


The California DMV Driver Handbook
To drive safely, you must follow the many rules and laws which tell you where and when you can drive. To follow these rules you must:
Know what traffic lights and signs mean.
Understand ?right-of-way? laws and how to use traffic lanes.
Know where and when you can park.
TRAFFIC CONTROL AT INTERSECTIONS
Traffic lights, signs, and "right-of-way" rules tell you when to go or stop at an intersection.
The traffic light colors are:
RED–A red signal light means "STOP." You can make a right turn against a red light after you stop and yield to pedestrians, bicyclists, and vehicles that are close enough to be a hazard. Do not make the right turn until you can turn safely. DO NOT turn if there is a sign posted for "NO TURN ON RED."
RED ARROW–A red arrow means "STOP" until the green signal or green arrow appears. A turn may not be made against a red arrow.
FLASHING RED–A flashing red signal light means STOP. After stopping, proceed when safe. Observe the right-of-way rules.
YELLOW–A yellow signal light means "CAUTION." The red signal is about to appear. When you see the yellow light, you should stop if you can do so safely. If you can't stop, watch for vehicles that may enter the intersection when the light changes.
FLASHING YELLOW–A flashing yellow signal light warns you to be careful. Slow down and be especially alert.
YELLOW ARROW–A yellow arrow means the "protected" turning time period is ending. Be prepared to obey the next signal which could be the green or red light or the red arrow.

GREEN–A green light means "GO," but first let any vehicles, bicyclists, or pedestrians remaining in the intersection get through before you move ahead. If you are turning left, make the turn only if you have enough space to complete the turn before any oncoming vehicle, bicyclist, or pedestrian becomes a hazard.

Do not enter an intersection, even when the light is green, unless you can get completely across before the light turns red. If you block the intersection, you can be cited.

GREEN ARROW–A green arrow means "GO.? Turn in the direction the arrow is pointing. But first yield to any vehicle, bicyclist, or pedestrian still in the intersection. The green arrow pointing right or left allows you to make a ?protected? turn. This means oncoming vehicles, bicyclists, and pedestrians are stopped by a red light as long as the green arrow is lighted.
TRAFFIC SIGNAL BLACKOUT–If a traffic signal light is not working because of an electrical power failure, stop at the intersection and proceed as if the intersection is controlled by a stop sign in all directions.
01 02 03 04 05 06 07 08 09 10 11 12 13 14 15 16 17 18 19 20 21 22 23 24 25 DMV
26 27 28 29 30 31 32 33 34 35 36 37 38 39 40 41 42 43 44 45 46 47 48 49 50 Glossary
01 02 03 04 05 06 07 08 09 10 11 12 13 14 15 16 17 18 19 20 21 22 23 24 25 DMV
26 27 28 29 30 31 32 33 34 35 36 37 38 39 40 41 42 43 44 45 46 47 48 49 50 Glossary

Already Have Your License?
Looking for a Traffic School?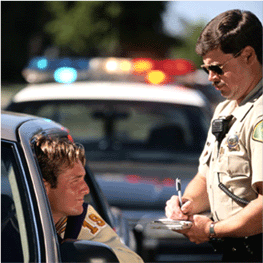 Traffic school will help keep your auto insurance costs lower if you receive a traffic ticket.
Every licensed California Driver must have auto insurance to drive a vehicle in California. Proof of insurance must be provided to the California DMV when you obtain your drivers license (not your learners permit).
Proof of auto insurance must also be provided to DMV when you register or renew the license on a vehicle you own.