Cal-Driver-Ed.Com

California's Home Study Driver Education Class
We offer online driver education and home study driver ed courses that satisfy the California Vehicle Code driver education requirements for students to obtain a DMV learners permit and drivers license. Our driver education classes are accepted by the California DMV. Designed for all California high school students in Sacramento, San Jose, Los Angeles, Long Beach, Oakland, Orange, San Diego, Riverside and all other areas of California. A service of Pacific High School.

To easily find this site again, hit Ctrl+D, or drag this link: Cal-Driver-Ed to your Favorites.


The California DMV Driver Handbook
Drive a vehicle so loaded, either with property or persons, that you can't see ahead or to the sides of your vehicle or control it.
Carry anything in or on a passenger vehicle which extends beyond the fenders on the left side or more than six inches beyond the fenders on the right side. A load extending more than four feet from the back of the vehicle must display a 12-inch red or fluorescent orange square flag or two red lights at night.
Allow anyone to ride on any part of your vehicle not intended for passengers.
Allow a person to ride in the load space of your pickup or other truck unless the vehicle is equipped with seats and the person uses both the seat and a safety belt.
Transport animals in the load space of a pickup or other truck unless the animal is properly secured.
Dump or abandon animals on a highway. It is a crime punishable by a fine (up to $1000), six months in jail, or both.
Tow anyone who is riding a bicycle, in a wagon, on roller skates, on a sled, on skis, or on a toy vehicle.
Sound your horn unless it is as a safety warning.
Throw any cigarette, cigar, or other flaming or glowing substance from your vehicle.
Shoot firearms on a highway or at traffic signs.
Litter the roadside. You will be fined $1000 and may be forced to pick up what you threw away. Littering convictions are shown on your driving record.
Wear a headset over, or earplugs in, both your ears.
Always signal to other drivers when you plan to turn left, right, slow down, or stop.
Motorcyclists often use hand signals to make themselves more visible. Bicycle riders may give right turn signals with their right arm held straight out, pointing right.
Signal your left or right turn during the last 100 feet before reaching the turning point. At highway speeds, it is best to signal at least five seconds before you change lanes.
If bright sunlight makes signal lights hard to see, use hand-and-arm signals also.

LEFT TURN

RIGHT TURN

SLOW OR STOP
01 02 03 04 05 06 07 08 09 10 11 12 13 14 15 16 17 18 19 20 21 22 23 24 25 DMV
26 27 28 29 30 31 32 33 34 35 36 37 38 39 40 41 42 43 44 45 46 47 48 49 50 Glossary

Already Have Your License?
Looking for a Traffic School?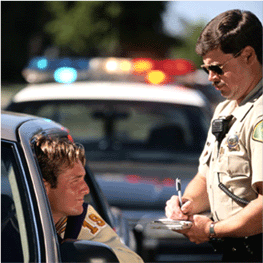 Traffic school will help keep your auto insurance costs lower if you receive a traffic ticket.
Every licensed California Driver must have auto insurance to drive a vehicle in California. Proof of insurance must be provided to the California DMV when you obtain your drivers license (not your learners permit).
Proof of auto insurance must also be provided to DMV when you register or renew the license on a vehicle you own.